West of Da Nang City in Central Vietnam, on the Truong Son range, is the resort and entertainment complex known as Bana Hills. With its cool climate and the wildness of the Ba Na mountain forests, a well-known tourist destination known as the "precious pearl" or "green lung" has turned into an ideal resort for many visitors. Bana Hills – Golden Bridge is visible to visitors. This legendary location offers visitors looking for breathtaking beauty an unforgettable experience as a true masterpiece that skillfully combines art and nature. can find some interesting locations and points of interest scattered throughout the complex, which will undoubtedly make your journey memorable. Here will give you some tips to travel Bana Hills-Golden Bridge effectively.
Where is Ba Na Hill tourist area located in Da Nang?
Address: An Son Village, Hoa Ninh Commune, Hoa Vang District, Da Nang City.
Ba Na Hills- Golden Bridge is far away from Da Nang Center approximately 40km. You have more options on how to get to Golden Bridge:
Bus from Da Nang Center to Bana Hills: Da Nang Green Bus, City Tour Bus…. with 150,000VND/ person/2 ways. Noted: you have to leave Bana Hills at 15:00pm to catch the bus on time.
Renting a motorbike is suitable for adventurers. The cost of renting a motorbike is approximately 100,000VND-150,000VND.
Moving to Bana Hills by car is a great choice for group visitors. You can rent a taxi or if you want to have a private and modern car, you can rent a car of car tourism services. Book a car and make a plan to explore Golden Bridge with Vietnam Private Car Danang to Mercure Bana Hill Hotel – Top Private Car Transfer Service in Vietnam (vietnamprivatecar.com)
The Ideal time to visit Bana Hills – Golden Bridge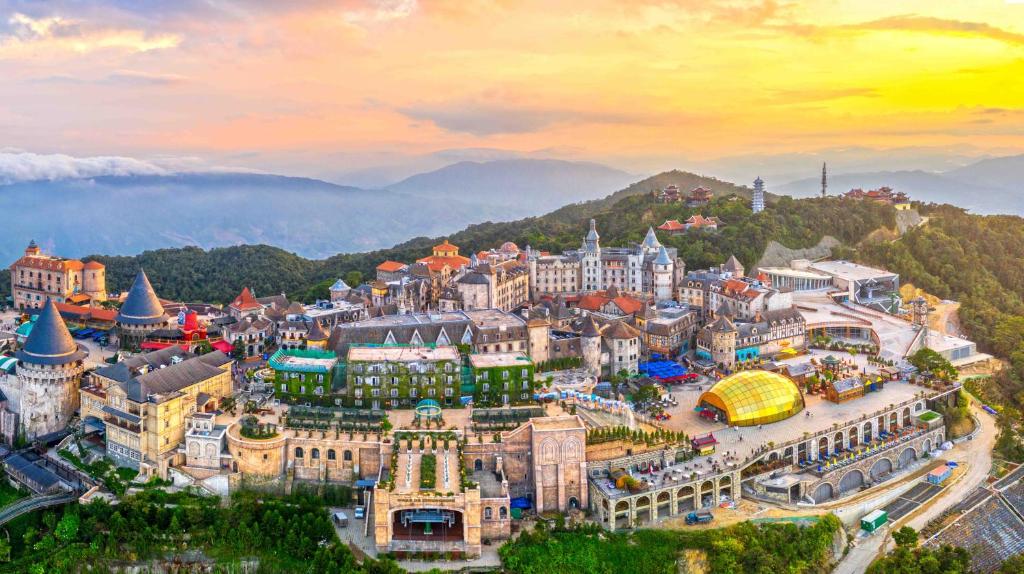 Golden Ba Na Hills at an elevation of 1,487 meters, with a moderate climate that is cool all year long. You can experience the differences of all four seasons on the same day, especially thanks to the weather in Ba Na. You should visit Ba Na from April to August because the weather is mild, relatively cool, and dry during this time, making it ideal for sightseeing and having fun. Since there is a lot of fog during the rainy season and it is difficult to travel and visit, you should avoid going to Ba Na during that time.
The Bana Hills – Golden Bridge entrance fees
Adults and children over 1m4 tall: 900,000VND/person
Children from 1m to 1m4 tall: 750,000VND.
Children under 1m tall: free tickets.
The above reference ticket price includes visiting the Golden Bridge, taking the 2-way cable car, going to the wine cellar, Le Jardin Garden and most of the games in Fantasy Park. Noted: Cable car will be open from 8:00 am to 22:00 pm, you should make a plan reasonably in order to not miss cable car at the end day.
Map of Ba Na tourist attractions
Where to stay in Ba Na Hills?
You can stay right at the top of Ba Na Hills for convenient entertainment. Mercure Danang French Village Bana Hills should be on your list. This 4-star hotel will bring you a comfortable and luxurious space in the Old French style. Prices for a night stay here range from 3,000,000 VND/double room.
What should you do in Ba Na? Ba Na tourist attractions
1. Golden Bridge
A brand-new construction in Thien Thai Garden, The Golden Bridge stands out in yellow from the surrounding clouds. The distinctive architecture, which depicts a bridge being supported by gray hands, is what stands out and draws tourists, making for an unexpectedly lovely scene.
2. Fantasy Park
Fantasy Park entrance fee:
Adults: 850k/person
Children from 1 – <1.4m: 650k/person
Opening hour: 7:00 a.m. to 7:00 p.m. daily, including holidays and Tet.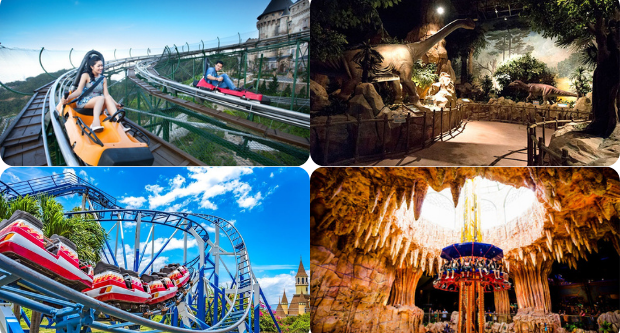 The largest indoor amusement park in Vietnam is called Fantasy Park. The two well-known novels Journey to the Center of the Earth and Twenty Thousand Miles Under the Sea by French author Junles Verne served as inspiration for the construction of the park. More than 100 different, incredibly attractive games are combined in the park. You can have a more exciting experience.
3. Debay wine cellar
Silver package: 100,000 VND/person (including tickets to visit the wine cellar and drinks as standard package).
Gold package: 200,000 VND/person (including tickets to visit the wine cellar and drinks in the premium package).
Gold package: 300,000 VND/person (including tickets to visit the wine cellar and drinks in premium package)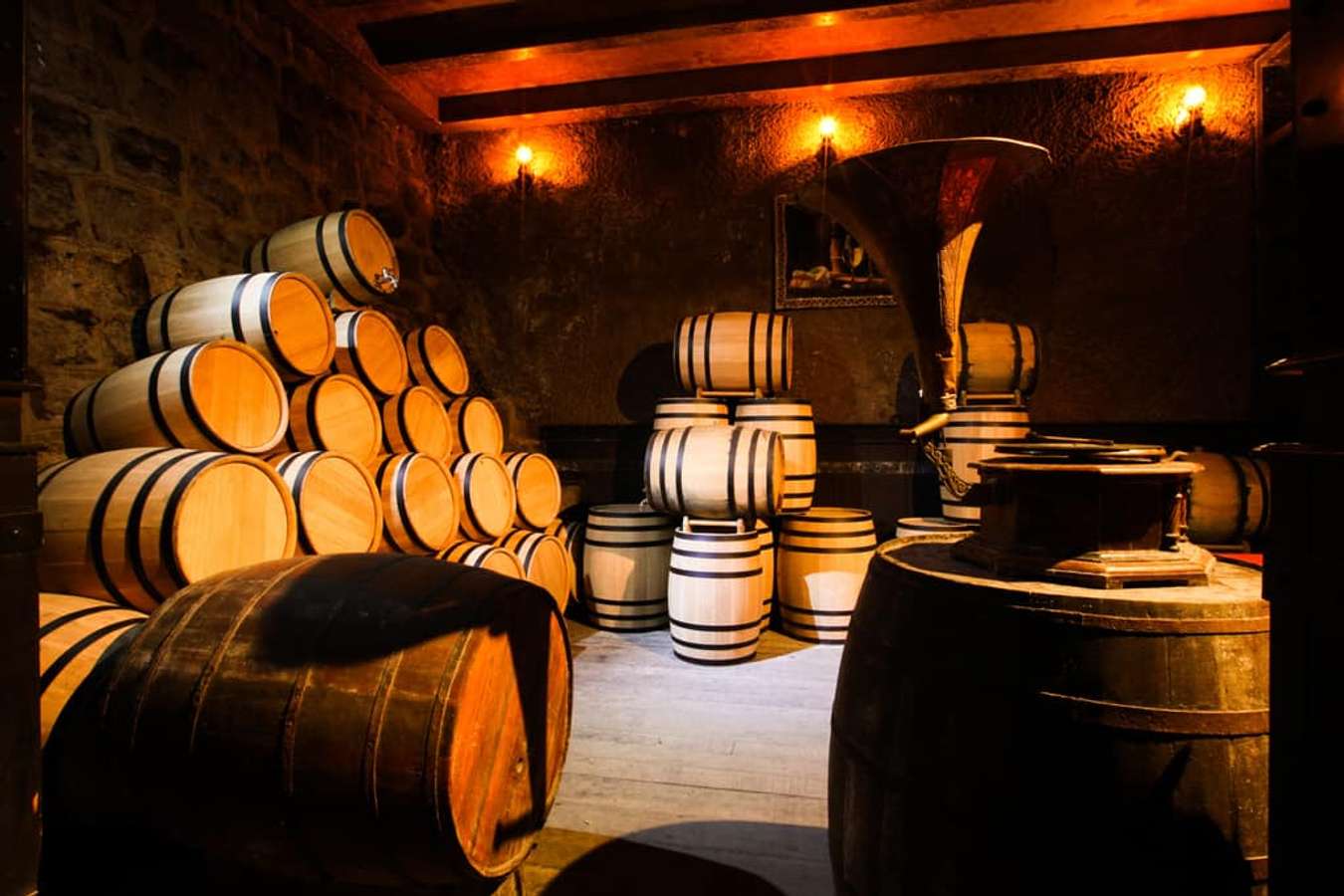 The French constructed this wine cellar in 1923 to store wines, specifically wines. The Ba Na wine cellar has been around for a while, but it's still in good shape. Visitors can stop by and sample some of the spicy yeast of the local specialty wine when they come.
4. The French village
The French village – a miniature "Europe" in the heart of Da Nang. You will experience the beautiful architecture of Renaissance Europe right in Vietnam.
5. The ancient Linh Ung pagoda
On the summit of Chua mountain is the historic Linh Ung pagoda, which is a good place to go if you're looking for a place of pure spirituality. The largest statue of Shakyamuni Buddha in Southeast Asia can be found here, along with numerous other exquisite and lovely places of worship that add to the tranquility and purity of the meditation environment.
What to eat when traveling to Ba Na?
Visitors can enjoy a culinary village in Ba Na with a wide variety of dishes. In addition to being well-known for its national dishes like banh cuon, banh hoi, banh xeo, and banh beo, it is also a great place to try other cuisines. foreign chefs preparing European cuisine.
There are some restaurants that are recommended for you:
Arapang Restaurant: A buffet restaurant with fruitful dishes.
La Lavande Restaurant: A buffet restaurant and serving Vietnamese ethnic dishes from 3 regions: North – Central – South.
Ha Hang Morin Restaurant: serving Vietnamese and European dishes at Morin station
Kavkaz Baku Restaurant: serves European dishes in Du Dome Square
Beer Plaza Restaurant: serves a variety of Vietnamese, European, Chinese, Japanese, and Thai dishes at Du Dome Square in the French Village.
You should also take note of the following Ba Na travel experiences: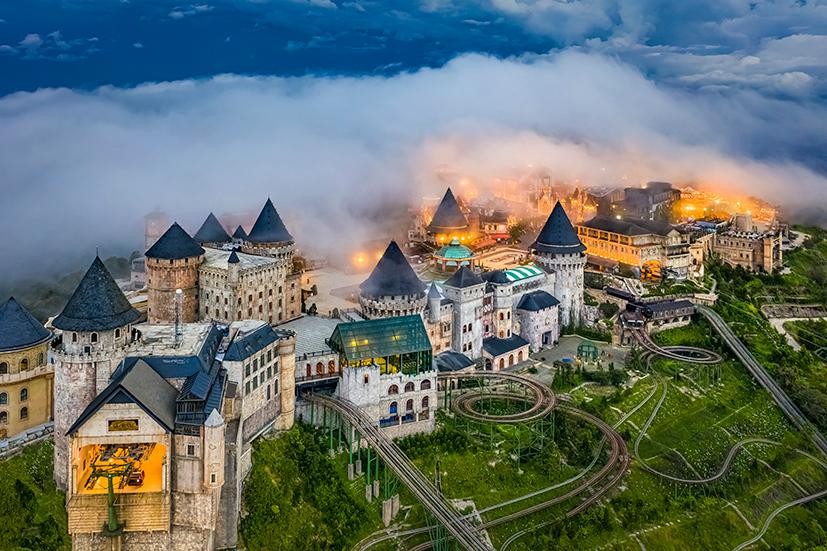 Ba Na Hills DOES NOT allow visitors to bring food.
Wait until dusk or dawn to check in at the most beautiful Golden Bridge.
It takes about 6 hours to travel. If you go on the weekend or a holiday, arrive early to avoid the line. Save time by purchasing your Ba Na cable car tickets online instead of in person.
Typically, hotels in Ba Na permit check-in after noon. You must wait if you arrive earlier. You should book a room hotels before in case the room is unavailable.
If you eat at a buffet on Ba Na rather than an a la carte restaurant, you'll save money on food.
Ba Na Hills – Golden Bridge is unruly, but also alluring and attractive. You can experience the most tranquil moments by traveling to here. With the experiences I've described above, hopefully, you can "pocket" a lot of practical travel advice for your upcoming trip to the Ba Na Hills – Golden Bridge.