Vietnam is a beautiful country with a rich cultural heritage and stunning natural landscapes. There are many deluxe group tours available that can help you explore the country's beauty in comfort and style. One such tour provider is Deluxe Group Tours. They offer a variety of group tours throughout Vietnam, including daily, weekly, monthly, and fixed-date tours. Their tours are designed to cover the most famous destinations and areas in Vietnam, so you can easily browse and make your decisions. They also provide high-quality services similar to private trips, professional tour guides, and guaranteed departures. Here are Vietnam Top Deluxe Group tours:
The capital of the Socialist Republic of Vietnam and the epicenter of the nation's culture, politics, economy, and trade is Hanoi, which is situated in the Red River Delta in the heart of North Vietnam. Over 600 pagodas and temples, as well as the Old Quarter, have survived Ha Noi's eventful thousand-year history, which has been marred by destruction, wars, and natural disasters. The One Pillar Pagoda, which was constructed in 1049, the Temple of Literature, which was constructed in 1070, the Ha Noi Citadel, the Ha Noi Opera House, President Ho Chi Minh's Mausoleum, and other famous sites are just a few. You can get a glimpse of the Vietnamese capital with the help of the Hanoi Deluxe Group Tour.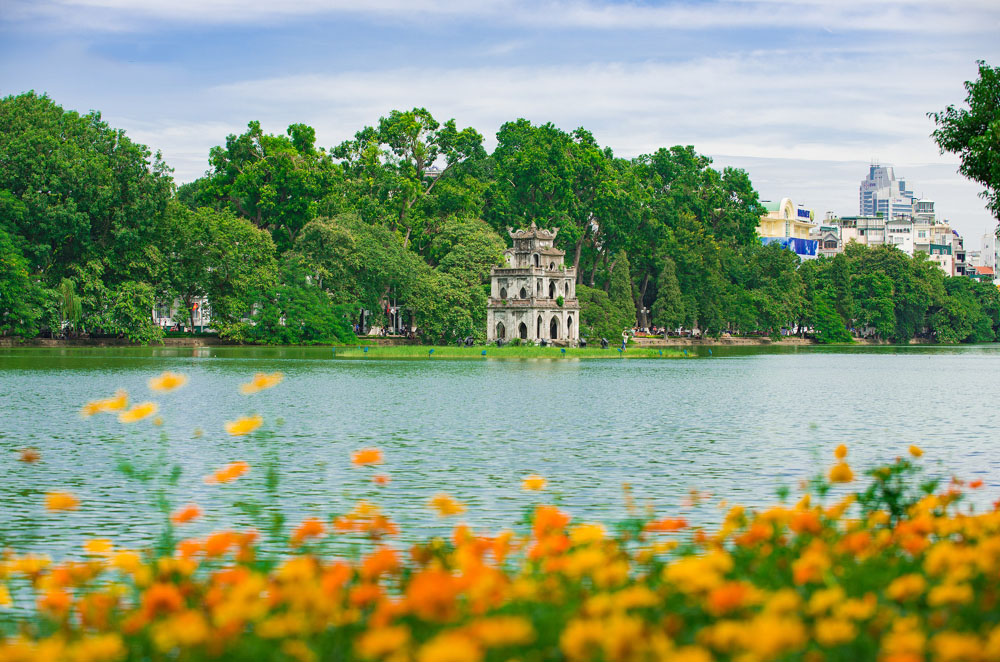 Number of day: 1 day
Pick-up time: 7.45 AM to 8.40 AM (depend on your hotel location)
No. of Travellers:12 Pax
Traveler Information
Adult: Age 9–86
Infant: Age 3 and under
Child: Age 4–8
Highlight Tours
Tran Quoc Pagoda: the oldest pagoda in Ha Noi built in the 6th century.
Ho Chi Minh Complex: Completed in 1975, the complex includes Ho Chi Minh's Mausoleum, the Presidential Palace, House-on-Stilts, and the Ho Chi Minh Museum.
Temple of Literature – the first University of Vietnam, established in 11th century.
Bat Trang ceramic village (on Mondays – Wednesdays – Friday) on the riverbank of Red River.
Vietnam Museum of Ethnology to learn about the culture of 54 ethnic groups living in Vietnam (on Tuesday – Thursday – Saturday & Sunday)
Hoan Kiem lake and Ngoc Son Temple: honors General Tran Hung Dao
Takeing your photo at The Huc Bridge
Hanoi deluxe group tour – Refer more detail here…
Halong Bay's dramatic karst cliffs, lush islands, and natural sea caves can all be seen from the water as you cruise around them. If the option is chosen, after your transfer from Hanoi, embark on a luxurious cruise ship and spend at least five and a half hours cruising around the bay. Visit Sung Sot Cave, kayak or ride a bamboo boat through Luon Cave, and cool off at Ti Top Island during the tour.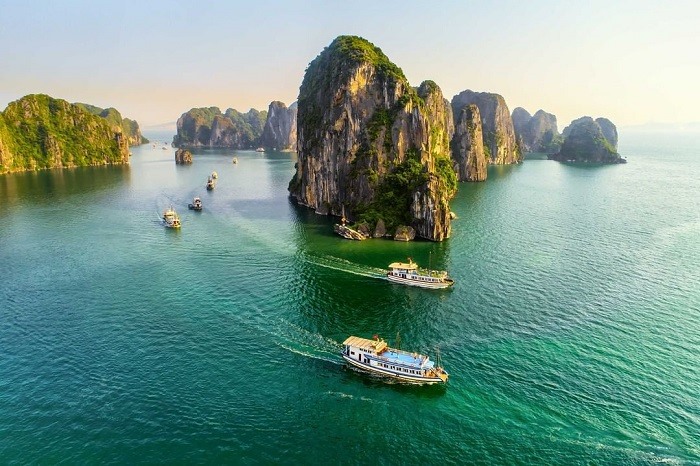 Number of day: 1 day
Pick-up time: 09.00AM-09.15 AM (Hotels in Hanoi Old Quarter)
Small Group: 12 Pax
Hight light tour:
Tuan Chau Port: Arrive Tuan Chau Harbor where all the boats depart to explore Halong Bay.
Sung Sot Cave: Our most beautiful cave in Halong Bay, is also the biggest one. ( Around 1 hour)
Halong Bay: Kayaking or Bamboo Boat at Luon Cave to discover the beautiful lagoon. ( Around 1 hour)
Titop Island: swim ( prepare your own swimming suites, towels) or climb up Titov Peak for a panoramic view of the bay. ( Around 1 hour)
Lan Ha Bay: a great place to take part in water-based activities such as snorkeling, kayaking or scuba-diving
3. Ninh Binh Deluxe Group Tour
The stunning province of Ninh Binh is situated in Vietnam's north. With its towering limestone cliffs, immaculate rivers, and lush green rice paddies, it is renowned for its breathtaking natural beauty. On this escorted door-to-door tour, you can enjoy Ninh Binh's highlights without the hassle of putting together boat and bike rentals.
Number of day: 1 day
Pick-up time: 07:20am- 07:40am (Hotels in Hanoi Old Quarter)
No. of Travellers: 12 Pax
Hight light tour:
Hoa Lu District: The first ancient capital of Vietnam in 10 and 11 centuries.
Dinh King temple: were built to honor the two kings of Dai Viet (old name of Vietnam) Dinh Tien Hoang (Dinh Bo Linh) and Le Dai Hanh (Le Hoan) in the 10th century.
Mua Cave: enjoy the breathtaking panoramic river and mountains view by climb 500 steps up to Lying Dragon Mountain.
Tam Coc: passing through three caves: Hang Ca, Hang Hai and Hang Ba.
Bich Dong Pagoda: the ancient pagoda- Bich Dong was built in 1428
4. Phong Nha Deluxe Group Tour
Phong Nha is famous for its cave systems and underground rivers. The most popular attractions are Phong Nha Cave and Paradise Cave. You'll be able to explore the amazing caverns and passageways that allow the underground river to flow. The tour is conducted in a small group, so you'll have others to join you and you might make a few friends too.
Number of day: 1 day
Pick-up time: 08:00 AM (hotels at Dong Hoi/Phong Nha town)
No. of Travellers: 12 Pax
Hight light tour:
Paradise Cave: South East Asia with the length of 31,4km. Enjoying cool weather and the magnificent stalactites and stalagmites.
Phong Nha Caves: The caves were formed over millions of years by the Chay River and are believed to be some of the oldest in Asia.
Hue is an ideal choice for discovering the ancient charm of old capital and diving in the mysterious stories about royal life as well as people here. Hue Deluxe Group Tour is great full day tour option for you who want to see the local destination and its history and the Hue people. Let's join us to have an amazing time in Hue.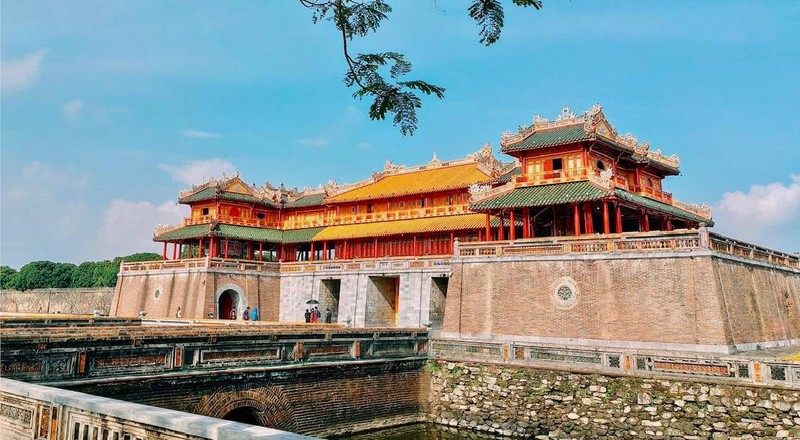 Number of day: 1 day
Pick up: 8:00am-8:30am (hotels in Hue city center)
Drop off: Your hotel in Hue city.
No. of Travellers:12 Pax
Hight light tour:
Huong River: enjoy the fresh atmosphere and peaceful beauty of Hue on the way.
Thien Mu: the oldest pagoda.
Hue Citadel: to see the living, working, worshiping and relaxing areas of Nguyen Kings' family, the last royal family in Viet Nam.
Hue royal museum: know more about the king's life through royal objects exhibited there.
Dong Ba market: A famous local market in this city.
Minh Mang and Khai Dinh Tomb: traditional architecture and French-influenced style, respectively
Thuy Xuan conical hat village: produce the traditional hat and incent.
Hue deluxe group tour – Read more here..
Vietnam's Da Nang is a city renowned for its stunning coastline and intriguing culture. You will see a blending of "old" and "present" elements in the locals' daily lives and architecture when you visit Danang, which is neither as lavish nor as sophisticated as Saigon or Hanoi. If you want to visit a local attraction, the Danang Deluxe Group Tour is a fantastic full-day tour option. Come have a great time with us in Danang.
Number of day: 1 day
Pick up: 8:00am-8:30am (hotels in Danangcity center)
Drop off: Your hotel in Danang city.
No. of Travellers: 12 Pax – 15 Pax
Hight light tour:
The Marble Mountains: are a popular tourist destination and are known for their beautiful peaks, vast networks of tunnels, gorgeous caves, and impressive temples.
Non Nuoc – Ngu Hanh Son Stone Carving Memory Museum: see directly the craftsmen creating handicrafts from large rocks with different shapes.
Linh Ung Pagoda: Linh Ung Pagoda attracts a large number of tourists and Buddhists all over the world who come to explore its beauty and learn more about Buddhist culture.
Han River: enjoy the sunset time and the whole city view.
Hoi An is a small city in Central Vietnam famous for its wooden houses, family chapels, Assembly Halls and for its silk shops. Take a step back in time on a walking tour of Hoi An Ancient Town—a UNESCO World Heritage Site. Hoi An Deluxe Group Tour leads you through the well-kept historic district of this once-prosperous seaport city.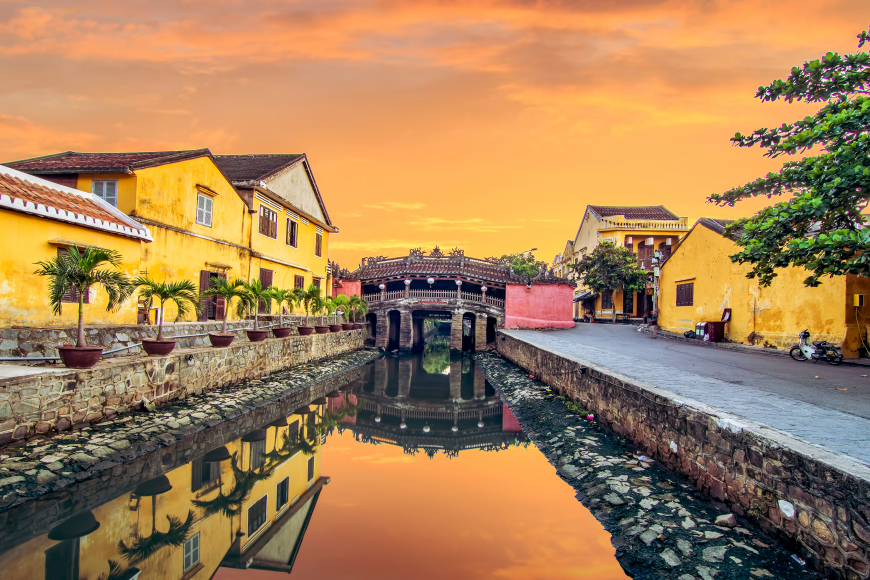 Trip duration: 5 hours
Pick up: 8:00 – 8:15 / 14:00 – 14:30 Hotel city center
Drop off: 13:30 / 18:30 Hotel city center
No. of Travellers: Min 2 Pax – Max 8 Pax
Hight light tour:
Centuries-old houses: influenced by Chinese, Japanese, French and European architectures.
The 400-year-old Japanese Covered Bridge: was constructed by Japanese traders in the late 16th century and is noted for its ornate design
Phuc Kien Assembly Halls: The architecture represents the iconic design of Fujian artistry and ancient Chinese construction.
Around the town we can see a numerous art galleries and tailor shops, get some made-to-order clothes.
Hoian deluxe group tour – Refer here…
8. Myson Deluxe Group Tour
My Son Holly Land is a distinct culture that emerged on the coast of modern Vietnam and traced its spiritual roots to Indian Hinduism. Myson, which is tucked away in the middle of a picturesque valley and encircled by tall mountains, was designated a Cultural Heritage site by UNESCO in 1999. When you visit HoiAn Ancient Town, the Myson half-day tour offered by HoiAn Deluxe Group Tour will provide you with a singular experience.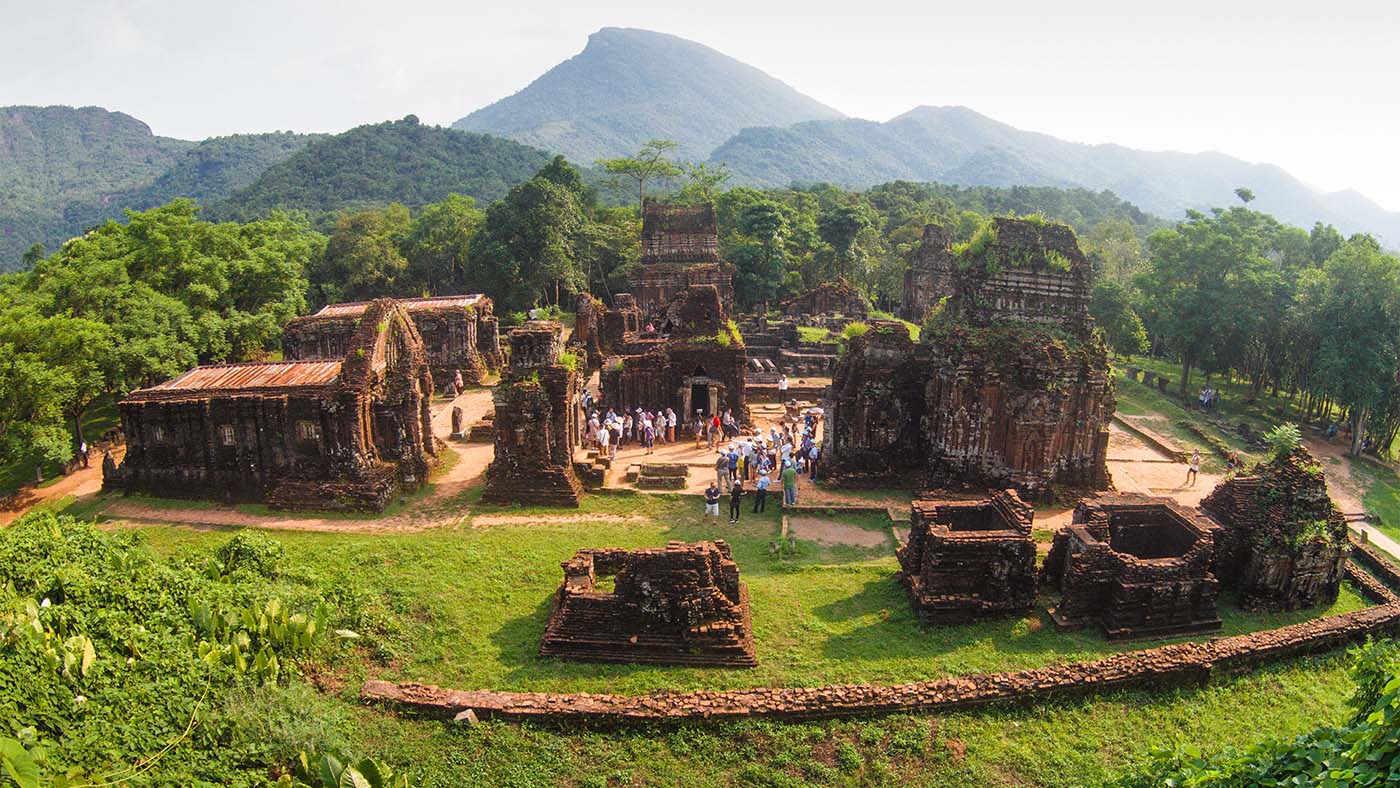 Pick up: 8:00am – 8:15am (Hotel city center)
Drop off: 14:00pm (Hotel city center)
Group size: Min 2 pax – Max 8 pax
Trip duration: 5 hours
Hight light tour:
Champa's Museum: learn about Champa's culture in Vietnam.
Hoi An Silk Village: learn about Champa's traditional silk weaving industry.
Myson deluxe group tour – Read more…
9. Nha Trang Deluxe Group Tour
Nha Trang is a coastal city located in the south-central region of Vietnam. It is known for its pristine beaches, crystal-clear waters, and vibrant marine life. Visiting Nha Trang, and joining the Nhatrang deluxe group tour, you will have a great journey.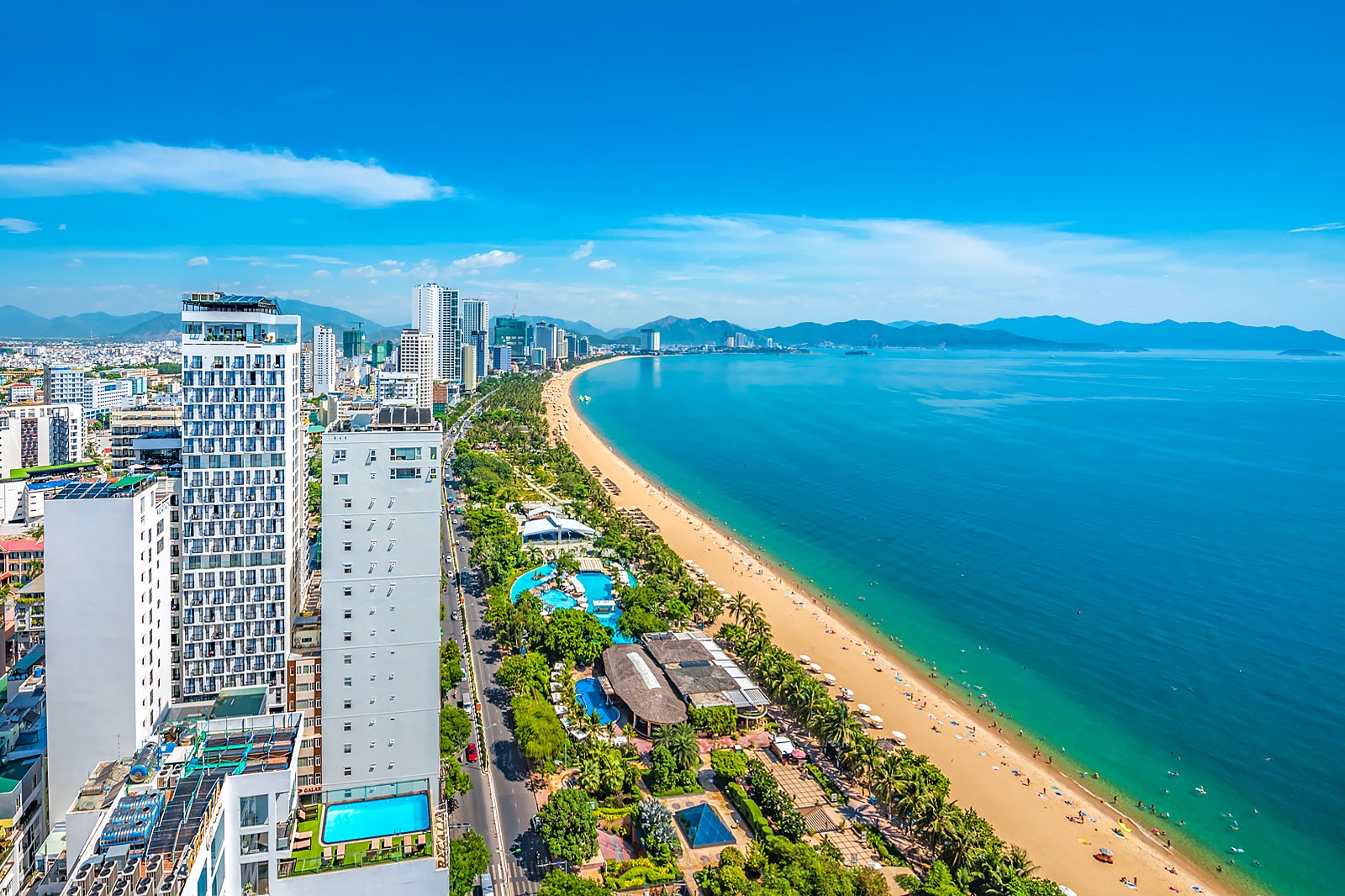 Pick up: 8:30am (Hotel city center)
Drop off: 16:00pm (Hotel city center)
Group size: Max 5 pax
Trip duration: 1 day
Hight light tour:
Oceanographic Institute: Marine Creature Museum shows more than 80,000 sea and fresh water specimen as well as living creatures that are kept in glass tanks.
Long Son Pagoda: the largest pagoda in Nha Trang. Visit the Pagoda to see and praise the 79 feet tall white Buddha statue, Kim Than Phat To, and many other architectural features that the pagoda has offer.
Ponagar Cham Tower: The Ponagar tower is a very glorified structure with amazing architectures filling with stunning colors.
Chong Rocks: Chong Rocks of two large rock clusters is located on the beach at the foot of la San hill. All of the rocks lying about in disorder and in the way create a majestic look.
Dam Market: the largest trading center in Nha Trang.
10. Muine Deluxe Group Tour
With its blend of serene landscapes and alluring adventures, Mui Ne entices. This coastal haven invites visitors to embrace a world of pristine natural beauty and enlightening cultural marvels by offering a peaceful retreat from urban clamor. Join us on our Muine Deluxe Group Tour for a chance to experience the destination to the fullest.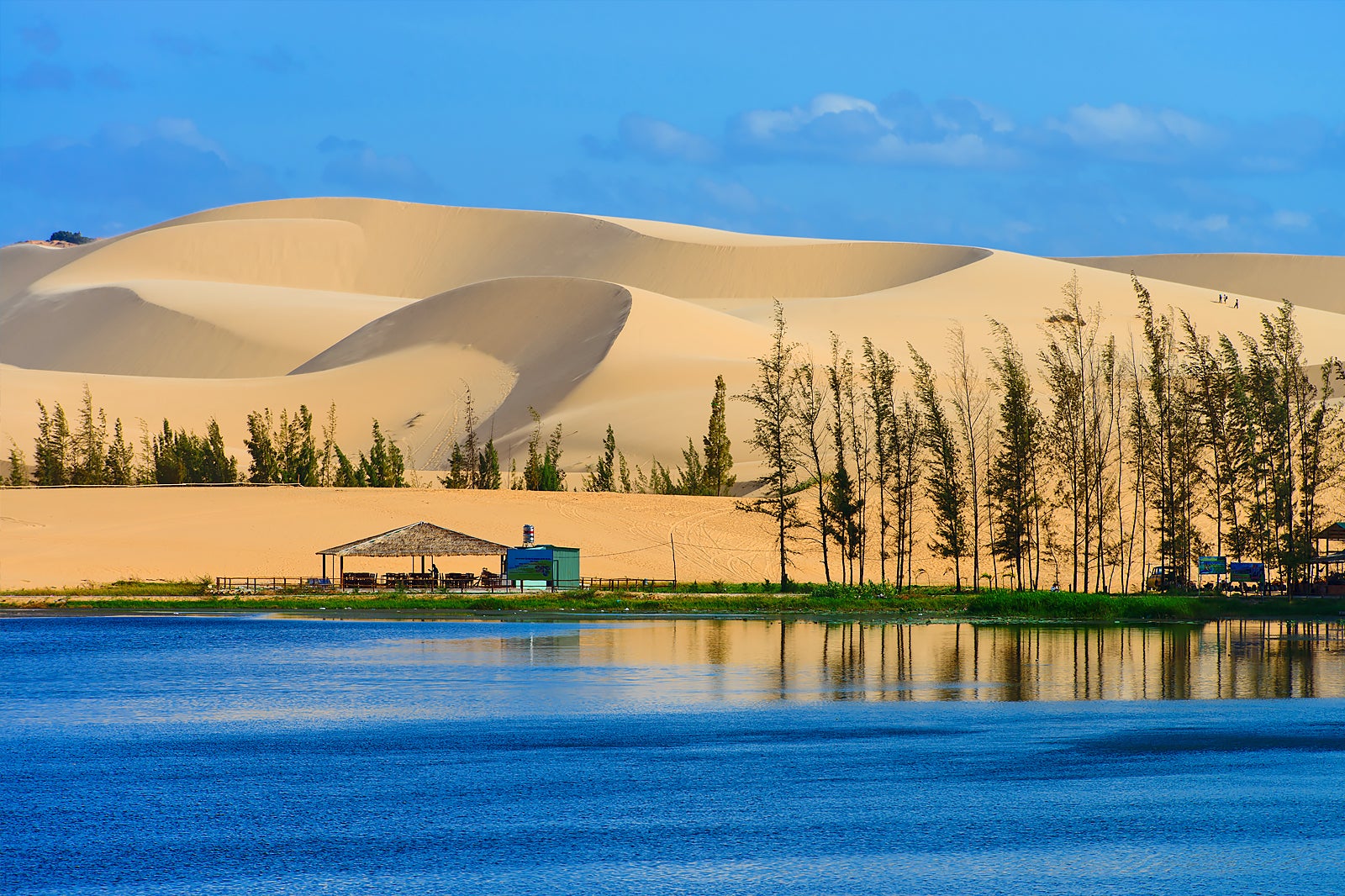 Pick up: 4:30am (Hotel city center)
Drop off: 8h30pm (Hotel city center)
Group size: Max 12 pax
Trip duration: 4 hours
Hight light tour:
White sand dunes: At the top of the sand dune, catching the first sunrise of the day. Other activities can be taken: riding quad-bikes over sand dunes and ostriches riding.
Red sand dunes: slopes are less steep than the White sand dunes, great opportunity for taking photo as red colour of the sand is great contrast to background scenery.
Fishing village: you can see the morning catch being hauled to shore, the women sorting the catch, and the fishing boats waiting to leave in a line.
Suoi Tien (fairy stream): where the small stream running through the middle of the red sand dunes.
11. Saigon/Ho Chi Minh Deluxe Group Tour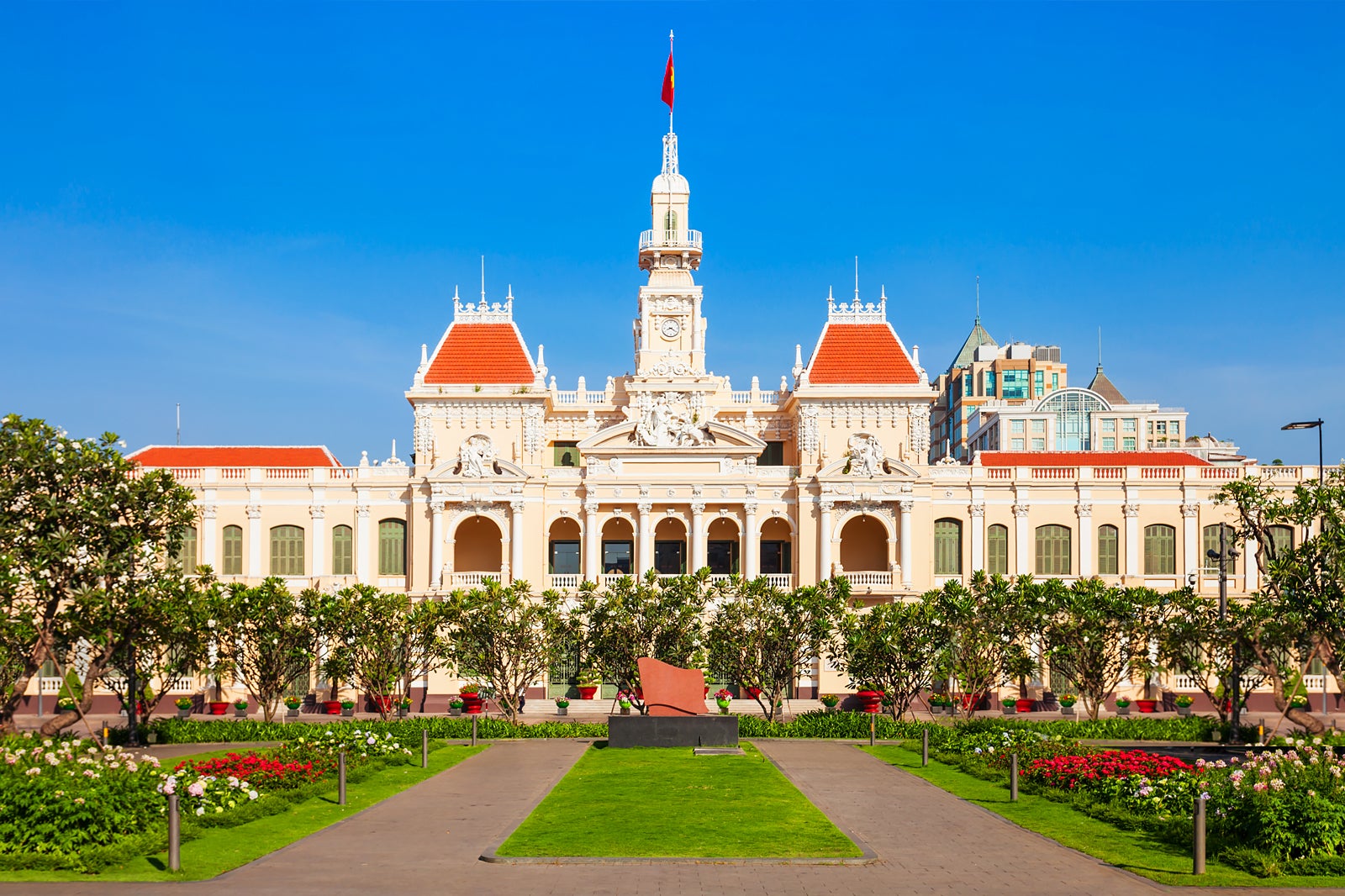 Daily Departure
Pick – up Time: 8:00~ 8:30AM Drop off Time: 12:30PM
Pick – up Time: 13:30~14:00 Drop off Time: About 17:30 – 18:00
Group size: Max 12 pax
Trip duration: half day
Hight light tour:
Notre Dame Cathedral: Notre-Dame de Paris is considered one of the finest examples of French Gothic architecture and is dedicated to the Virgin Mary.
Saigon Post Office: It is considered one of the most iconic buildings in the city and is a popular tourist attraction.
Reunification Palace: It is considered one of the most iconic buildings in the city and is a popular tourist attraction.
War museum: The museum contains exhibits related to the Vietnam War and the First Indochina War, including artillery and armor collections, photographs from the war, and displays of chemical weapons used during the conflict.
Local Market (Flexible/ If have enough time)
Ho Chi Minh deluxe group tour – Read more..
On this picturesque riverside cruise, observe the passing stilted homes, boat-building workshops, and vendors from the comfort of your wooden river boat with a Mekong deluxe group tour.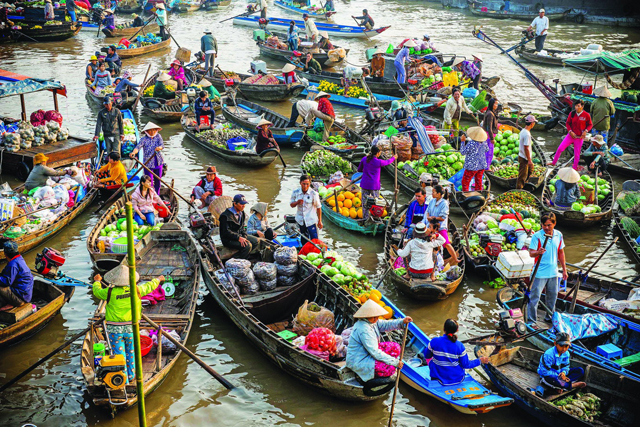 Pick up: 07:30am – 08:00am
Group size: Max 12 pax
Trip duration: 1 days
Hight light tour:
Vinh Trang Pagoda: The temple has a unique architecture that combines Eastern and Western features, interwoven with the traditional Vietnamese soul.
Tien River to Qui: is also known by many other name.
Bao Dinh Canal: learning about the local agricultural model known as Garden-Pond-Cage
Boarding your boat for an afternoon cruise to the amazing tropical fruit gardens and to take in a local islander's performance of Southern Vietnamese folk music.