Nestled in the idyllic countryside near Hoi An, Vietnam, Thanh Ha Pottery Village stands as a living testament to the country's rich cultural heritage. With a history spanning over five centuries, this quaint village offers visitors a chance to step back in time and witness the art of traditional pottery-making. Let's embark on a journey to explore the allure of Thanh Ha Pottery Village and discover the treasures it holds for curious travelers.
1. Location and How to Get There
Located just 4 kilometers west of Hoi An's ancient town, Thanh Ha Pottery Village is easily accessible for tourists.Travelers can reach Hoi An by various means of transportation, such as easily renting a car to enjoy the scenery and conveniently get to Hoi An, or renting a motorbike. Once in Hoi An, Travelers can reach the village by renting a bicycle, taking a motorbike, or renting a car from Hoi An. The picturesque route offers glimpses of the serene countryside and the chance to savor the beauty of Vietnam's rural landscapes.
2. Opening Hours and Ticket Prices:
Thanh Ha Pottery Village welcomes visitors for sightseeing and experiences from 8:00 AM to 5:30 PM daily.
The ticket prices are 15,000 VND for children and 35,000 VND for adults, and the tickets are valid for 24 hours.
The ticket price includes services such as visiting the historical site of Dinh Xuan My, the ancestral pottery village site of Mieu Nam Dieu, observing the pottery shaping technique by artisans, experiencing pottery shaping, pottery throwing, and a complimentary pottery product.
3. Exciting Activities at Thanh Ha Pottery Village:
3.1. Witness the Skillful Ceramic Polishing Technique
Step into the heart of the village and be captivated by the skillful artistry of pottery artisans as they polish and shape clay into exquisite creations. Watch with wonder as these seasoned craftsmen breathe life into raw materials, transforming them into functional household items and ornamental pieces. The precision and expertise of the artisans will leave you in awe and provide a deep appreciation for the art of pottery-making.
3.2. Enjoy the Ancient Space of the Pottery Village
As you roam through the charming pathways of Thanh Ha Pottery Village, you'll feel a sense of timelessness enveloping you. The village exudes an ancient charm with its traditional workshops and rustic settings, offering a glimpse into the region's rich cultural heritage. Embrace the peaceful ambiance and savor the tranquility that permeates the air, creating an atmosphere of creative inspiration.
3.3. Create Your Own Ceramic Work
For those seeking a hands-on experience, don't miss the opportunity to engage in a pottery workshop led by skilled potters. Unleash your creativity as you shape and mold clay under expert guidance. Whether you're a novice or an experienced artist, the joy of crafting your own ceramic masterpiece is an unforgettable moment to cherish forever. This immersive activity allows you to take home a unique creation, infused with your creativity and the essence of Thanh Ha Village.
3.4. Visit Thanh Ha Terracotta Park – A Miniature Vietnamese Ceramic World
Venture beyond the village's boundaries and explore Thanh Ha Terracotta Park, a captivating destination that showcases a miniature Vietnamese ceramic world. Admire the intricate terracotta sculptures and detailed replicas of iconic Vietnamese landmarks. The park is not only an artistic marvel but also offers insights into the country's rich history and cultural heritage.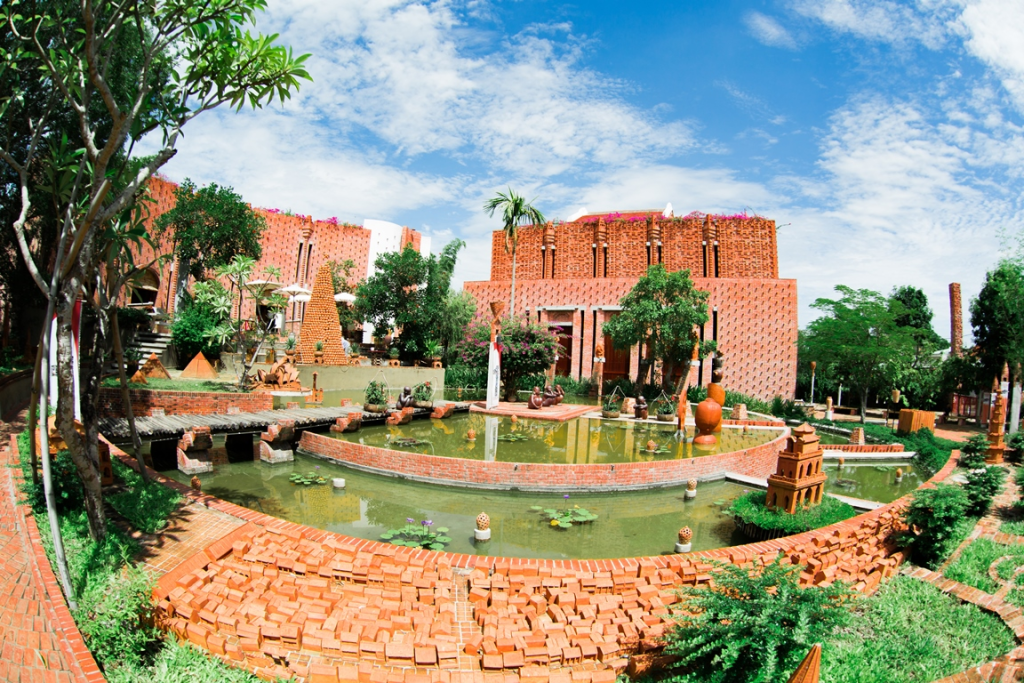 3.5. Enjoy the Exhibition and Choose Thanh Ha, Hoi An Ceramic Gifts
Before bidding farewell to Thanh Ha Pottery Village, make sure to visit the delightful ceramic gift shops and exhibitions. Here, you'll find an array of beautifully crafted ceramic gifts and souvenirs, each reflecting the village's artistic legacy. From exquisite vases to charming figurines, you'll be spoilt for choice as you select the perfect memento for your loved ones or a keepsake of your own journey.
Embrace a captivating journey into the artistic world at Thanh Ha Pottery Village. Witness the timeless craft of pottery making and be enchanted by the village's rich cultural heritage. Vietnam Private Car is your ideal companion for a hassle-free and comfortable exploration. Discover the artistic legacy of Thanh Ha Pottery Village with ease, ensuring a trip filled with unforgettable memories. Don't miss this opportunity to create cherished moments that will stay with you forever.